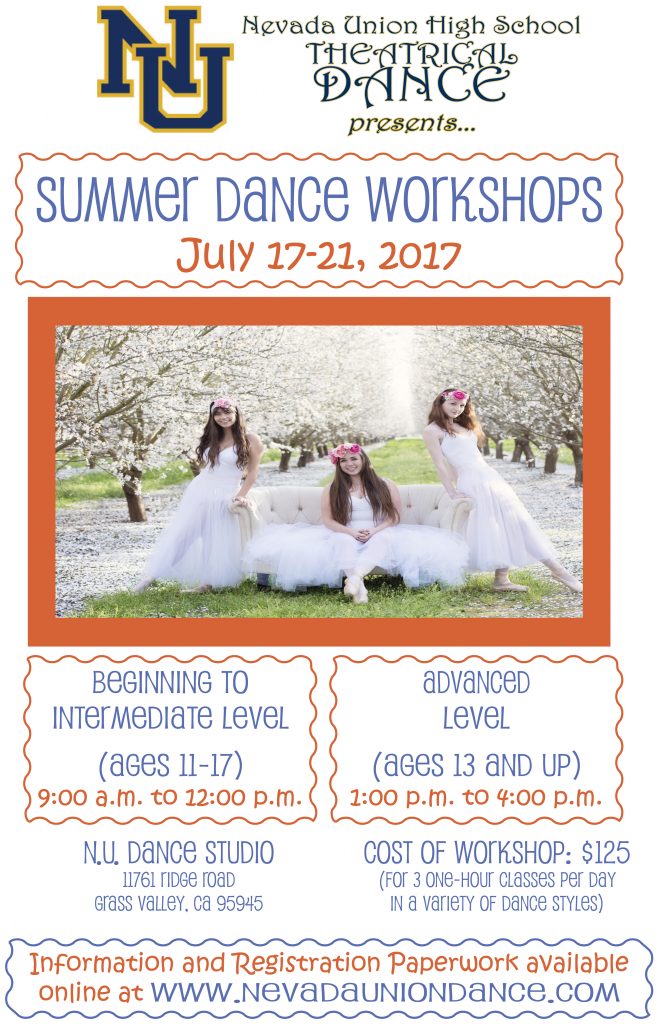 Nevada Union High School's Theatrical Dance program is excited to announce our 5th annual Summer Dance Workshop, a one week program on July 17-21, 2017 designed for beginning through advanced dancers (ages 11 and up) who want to experience a variety of dance styles and learn original choreography from the NUHS Theatrical Dance program. The morning session is geared towards beginning to intermediate level students (ages 11 to 17) who have prior dance training in either ballet, modern, and/or jazz. The afternoon session is for advanced to pre-professional level students (ages 13 and up) with prior dance training.
2017 Schedule of Classes will be posted here as soon as they are finalized.
When: July 17-21, 2017
Cost of Workshop: $125.00 for the entire workshop (3 one-hour classes per day for five consecutive days, plus an informal performance at the end of the workshop on Friday for family/friends). Students who cannot enroll in the full workshop can pay the drop-in rate of $10.00 per one-hour class. Please make checks payable to NUHS Theatrical Dance.
How to Enroll: Fill out the REGISTRATION FORM and the required CONSENT TO TREAT FORM. Submit these with your PAYMENT.  You can drop off the paperwork and payment in the NUHS Front Office in the mailbox room (please put them in the Dance Room mailbox, ATTN: Courtney Wadman). The school's Front Office is open daily during summer school hours, or you can mail your completed Registration Form, Consent to Treat Form, and Payment to:
Nevada Union High School
Attn: Courtney Wadman, Dance Room
11761 Ridge Road
Grass Valley, CA 95945
What To Wear/Bring: Participants should wear appropriate dance clothes to class: leotard with tights/leggings for girls, and a body hugging t-shirt with leggings for boys. Dance shoes are recommended (e.g. ballet shoes for ballet class, jazz shoes for jazz class), but dance shoes are not required. Socks or bare feet are acceptable. Long hair should be tied back with bangs out of face. Please bring a water bottle to class. There is a water bottle filling station in the dance room. You may want to pack some snacks as well.
Directions: From Ridge Road, turn into the main entrance to Nevada Union High School, 11761 Ridge Road, Grass Valley, CA 95945. Drive past the front of the school/main office and continue down the hill. The Dance Studio is a large building located just to the left of the swimming pool at the bottom of the hill. You can park in the pool parking lot.
Questions: Contact Mrs. Wadman at 273-4431 ext. 2103 or email cwadman@njuhsd.com
Description of Workshops:
Beginning to Intermediate Level Dance Camp (Ages 11-17): 9:00 a.m. to 12:00 p.m. Classes and choreography will be designed for students (ages 11-17) who have some prior dance training in ballet, modern, and/or jazz at least at a beginning to intermediate level. Each day students will take classes in a variety of different dance styles by N.U. teachers and alumni.  You can sign up for the full Dance Camp (9:00 a.m. to 12:00 p.m. for five days), or you can sign up for individual classes or days. Any student who participates in all or part of the Dance Camp can perform in the informal showing on Friday from 12:00-12:30. Family and friends are invited to this informal performance to see what the dancers learned in their classes.
Advanced Level Dance Workshop (Ages 13 and up): 1:00-4:00 p.m. This workshop will focus strongly on technique and choreography for dancers who are at an advanced level. Students who will be enrolled in the 2016-2017 Advanced level are strongly encouraged to attend. Classes will be offered in ballet, modern, jazz, hip hop, Pilates, and more. Students will also learn new choreography to be performed in our upcoming 2016-2017 NUHS Dance Productions!  Any student who participates in the workshop can perform in the informal showing on Friday from 4:00-4:30 p.m., and family/friends are welcome to attend!
To Register Download Forms and Print
REGISTRATION FORM
CONSENT TO TREAT FORM
Summer Workshops Schedule